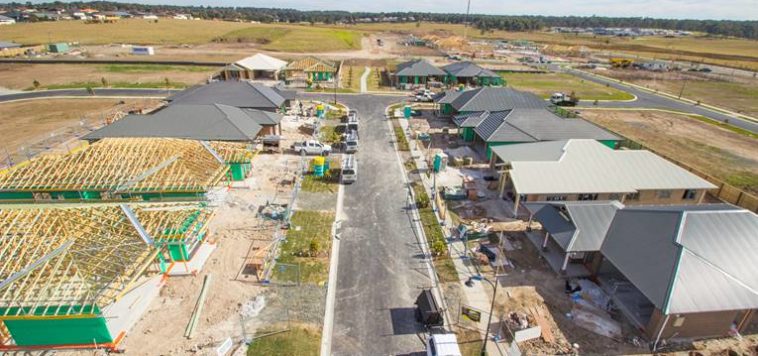 BECAUSE SOMETIMES MORE IS MORE – MULTI HOUSE DEVELOPMENTS
Valley Homes has been building Australian homes since 1982. Over the years we've built affordable first home buyer housing, acreages, duplexes, and custom designed homes, some of which have been recognised with housing awards.
Our suite of services has been expanded to include large scale multi-house developments, such as defence housing projects and over-50s luxury estates. This expansion has proven to be an exciting and successful shift for Valley Homes' expertise in greater Newcastle and the Hunter Valley.
The property market in Australia has been shifting for some time towards both a high-density model in and around city centres, as well as the demand for entirely new suburbs to be created in the surrounding regions. This has opened up new opportunities for investors and developers to cater for this dual type of demand – requiring a builder that is experienced in multi-unit as well as multi-house builds.
People living in greater Newcastle and the Hunter Valley are in a fortunate position to choose between high density dwellings or choosing the idyllic lifestyle of a large backyard and fresh air, as provided in the new suburb builds currently being developed in relatively close proximity to the city centre. Valley Homes is an experienced new suburb builder with extensive private building knowledge, as well as years of working on government large scale projects. We have seen the benefits first-hand that these new suburbs offer for the investors backing them, as well as the new residents who get to enjoy them.
Of course, having the drive and the funds available to finance a new suburb build are paramount, but having a reliable and highly experienced multi-dwelling builder on your team will greatly impact your investment's bottom line. Local information
and resources can make quite a difference in the efficiency of project management, as well as the ability to source from premium suppliers and contractors. This makes Valley Homes perfectly positioned to continue to build multi dwelling builds in greater Newcastle and the Hunter Valley, particularly as our past successes demonstrate our ability to complete projects on time, on budget, and finished to a high standard.
Experienced with large scale projects
From rows of beautifully appointed two storey terraces, affordable single storey duplexes, through to large scale, multi-phase developments, which require adhering to strict design guidelines and timelines, Valley Homes knows the ins and outs of a new suburb builder whether in the private or public sector. Through government-backed housing projects, such as our recently completed regional defence housing builds 5 stage, 200+ dwelling project, and the current construction of the over-50s lifestyle estate Tallowood Medowie, Valley Homes has gained experience not only in building incredible houses, but also building infrastructure to ensure each new suburb has the potential to become an outstanding community. This includes designing and creating shared spaces, as well as communal landscaping initiatives.
The strength and stability required for multi dwelling projects
Of course, knowing your builder's experience level is vital, but in addition to this we understand that economic stability is just as crucial. Which is why we're proud to say our business is financially well-positioned and highly secure to take on large scale projects. Our Capability Statement is available upon request and outlines the measures we have in place. This information should provide investor-developer confidence in Valley Homes' ability to complete large scale projects, whether single or multi-phase, and means investors can be assured they will be moving onto the sales or property management phase of their project as quickly and cost effectively as possible.
Booming market opportunities
Valley Homes' head office is situated in Maitland, giving easy access to builds from greater Newcastle through to the Hunter Valley and beyond – which is a huge benefit to this highly sought after property market for large scale investors. The region is growing rapidly and building tastes are evolving, making multi-dwelling new suburb builds highly appealing for both locals and developers. This demand is supported by the fact that overheads are much lower in these regional areas in comparison to larger cities, yet the region has a very healthy economy and employment record – meaning top sales and rental figures can still be attained. Plus, recent government legislation changes have also streamlined some of the approval processes, meaning less red tape and more reasons to speak to experienced new suburb builders about getting your multi-house development underway.
---
For a copy of our development Capability Statement and to arrange a time to meet and find out just what our experience can do for your bottom-line, please get in touch.
---